Abalone Shells Natural - Unpolished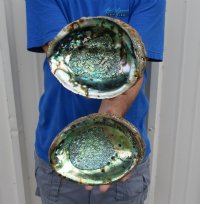 Natural Abalone Shells for sale, unpolished, from the Haliotidae family of seashells. We carry a selection of Green Abalone, and Red Abalone in sizes 5 inches up to 8 inches. Abalone smudge bowls and sage smudge bowls are made from several types of abalone shells. The highly iridescent inner layer of the shell of abalone has traditionally been used as a decorative item in jewelry, buttons, and as inlay in furniture and in musical instruments such as guitars, etc.
Shell collectors: Check out our "Hand Picked", nice quality, natural abalone shells below. You buy what you see - no surprises!