Abalone Shells Natural - Unpolished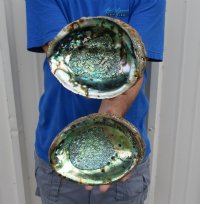 Natural Abalone Shells for sale, unpolished, from the Haliotidae family of seashells. We carry a selection of Green Abalone, and Red Abalone in sizes 5 inches up to 8 inches. Abalone smudge bowls and sage smudge bowls are made from several types of abalone shells. The highly iridescent inner layer of the shell of abalone has traditionally been used as a decorative item in jewelry, buttons, and as inlay in furniture and in musical instruments such as guitars, etc.
We also offer hand picked, nice quality, natural abalone shells. You are buying what you see so please carefully review each photo. Our shells are 100% real (NOT replicas). They are beautiful and imperfect.