Buffalo Horn Mugs, Glass, Bowls, Trays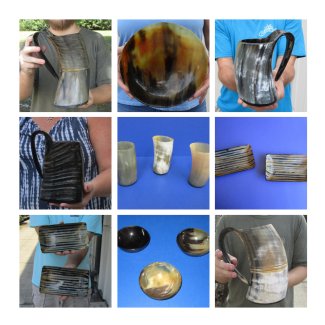 Buffalo Viking Horn Mugs made out of real water buffalo horns, for beer and soda and for use in reenactments are available in 4 inches, 6 inches and 7 inches and natural buffalo horn glass and cups come in 4 inches, 5 inches and 6 inches. The half carved, half polished horn mugs, our carved and burnt rustic look horn mugs, and our natural buffed horn mugs are available in 6 inches and 9 inches. We also carry buffalo horn trays in 5 inches, 7 inches and 9 inches and bowls in 4 inches and 10 inches. All come in a variety of colors. This is a natural beautiful product. The shading, patterns and coloring will vary from item to item and most have a marble look with blends of blacks and browns with golden highlights to blacks with greys and whites.
DO NOT fill with hot food or beverages - the surface will be damaged. This is a natural product
- Hand Wash - NOT Dishwasher Safe!

Priority Mail (2 -3 day shipping) is CHEAPER, for Eastern and Central U.S. for packages weighing UNDER 3 lbs. Check rates for both UPS and USPS!
Can Only Be Shipped Within the US