Home Decor and Gifts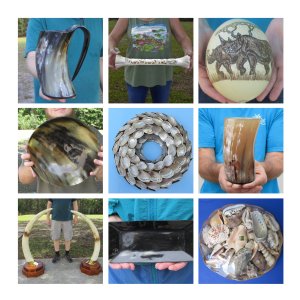 Are you looking for natural unique gifts at affordable prices? We have a nice selection of natural buffalo drinking horn mugs in full rustic design and in polished design, plus buffalo horn bowls, glasses and trays. For those who love the art of scrimshaw, check out our scrimshaw ostrich eggs with the African Elephants, African Rhino, Buffalo, Leopard and more. We also have scrimshaw giraffe leg bones and carved giraffe bones. Plus reproduction hanging elephant tusks and large standing reproduction elephant tusks. We offer both hand picked and photographed gifts allowing you to see exactly what you are buying, and gifts where we select one for you that looks similar to the photo.
Our Products Cannot Be Exported.
Browse these categories under "Home Decor and Gifts"