Horn Bowls, Trays, Spoons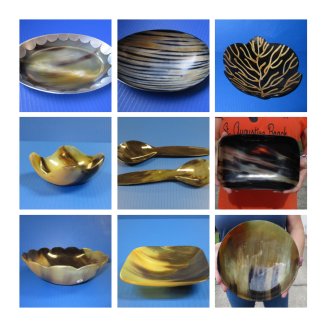 Horn Bowls for Sale Wholesale and Individually and Horn Trays and Horn Spoons Wholesale made out of real Indian ox and cow horns. We carry rectangle horn bowls, 4, 5, 6, 7, 8 and 10 inches round horn bowls, 10 inches large oval horn bowls and boat shaped horn bowls, 6 inches heart horn bowls and horn spoons and tongs, all made out of authentic cattle horns and ox and cow horns.
DO NOT fill with hot food or beverages - the surface will be damaged. This is a natural product
- Hand Wash - NOT Dishwasher Safe!
We offer hand picked and photographed horn bowls and trays allowing you to select the exact one you want -- no surprises!
We Only Ship Within the US

This website offers numerous wholesale priced products, but wholesale pricing is not available on all products. Our Wholesale Website is: www.atlanticcoral.com