Warthog Tusks for Carving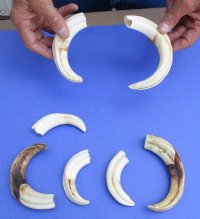 Choose from our wide assortment of ethically sourced Hippo and Warthog Ivory Tusks. When you purchase any of our Ivory products, you can rest assured that they are ethically and legally obtained from the African Government's culling program. These Warthog Tusks are beautiful and perfect for creating ornate knife handles, ivory jewelry, walking cane handles, and so much more. Let your creativity soar with these stunning hand-picked ivory tusks and start creating today.

Shop Here and Save!! All our warthog tusks are priced below retail. We are importers of African warthog tusks -- NO MIDDLEMAN!!
Browse these categories under "Warthog Tusks for Carving"