Buffalo Bones Bulk and Hand Selected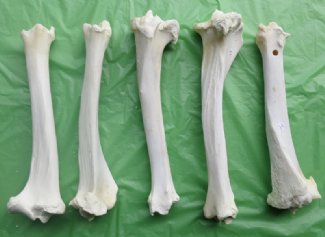 11 to 16 inches long Real Water Buffalo Bones for Sale Wholesale and individually, in 4 piece sets imported from India. Tibia, femur, radius and humerus leg bones are available individually and in a set of 1 of each bone. Buffalo bones are used in carving bone, painting bone and in scrimshaw art. The
water buffalo
(
Bubalus bubalis
) or
domestic water buffalo
is a large bovid
originating in the Indian subcontinent, Southeast Asia and China.
At least 130 million water buffaloes exist, and more people depend on them than on any other domestic animal
.
They are especially suitable for tilling rice fields
, and their milk
is richer in fat and protein than that of dairy cattle.


We Ship Priority Mail (2 -3 day shipping) (

NOT UPS

) for packages weighing UNDER 3 lbs.