Springbok Horns, Male and Female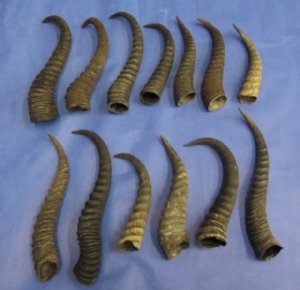 Springbok Horns Wholesale and in small quantities for crafts. We have Male Springbok Horns for sale from 10 inches up to 15 inches, and Female Springbok Horns for Sale from 5-1/2 inches up to 10 inches,
antidorcas marsupialus
. Both sexes have black horns that are straight at the base and then curve backward. The female's horns are thinner than the male and are only 60 to 70 percent as long. Springbok inhabit the dry areas of south and southwestern Africa. They are valued for their meat and skin. Springbok is the national animal of South Africa. These horns have been cleared for legal entry into the US by the US Fish and Wildlife Department and US Customs.
This website offers numerous items wholesale, but wholesale pricing is not available on all items. Our Wholesale Website is: www.atlanticcoral.com