Yellow Helmet Shells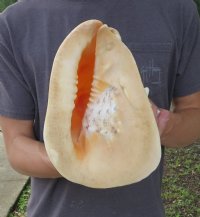 We have a great selection of hand selected Yellow Helmet Shells for sale in sizes 7 inches up to 10 inches.
Cassis cornuta
, common name horned helmet or yellow helmet is an extremely large sea snail, and the largest of the helmet shells. It it a heavy chunky shell with horn-like knobs and a wide flat base. The face of the shell is shiny and pale orange in color, faintly marked with whites and browns. All of our
Cassis cornuta are real -

not replicas

.
The larger a shell is, the older it is and the more "natural" imperfections it will have from living in the oceans.
Make your seashell a showpiece and protect your furniture from being scratched by adding a display stand. Available in our category
Acrylic and Wooden Display Stands
We Only Ship Within the US

This website offers numerous wholesale priced products, but wholesale pricing is not available on all products. Our Wholesale Website is: www.atlanticcoral.com