Gemsbok Horns, Oryx Horns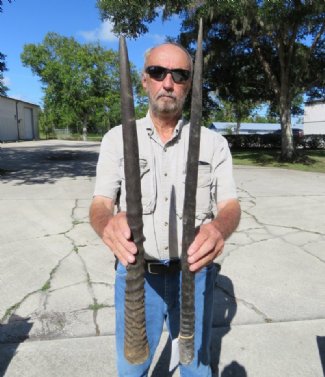 African Gemsbok Horns for Sale,
Oryx gazelle
, also called Oryx Horns, measuring between 25 inches and 40 inches in length. Some horns are fairly straight while others have a curve. Oryx horns are used in making blowing horns, furniture and other taxidermy crafts. These are real and will have natural imperfections. We offer hand picked and photographed horns where you select and buy what you see in the photo. We also sell gemsbok horns that we select for you, at a lower price.
These Horns Cannot Be Exported.