Nyala Skull with Horns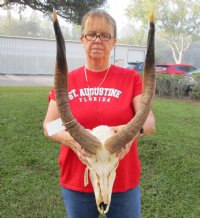 African Nyala Skull with Horns for Sale. The African nyala is a large antelope with a shaggy slate brown coat and white vertical stripes and spots on the shanks.
Our nyala skulls are real -

not

replicas.
They will have natural imperfections. They were imported from South Africa and were cleared for legal entry into the US by the US Fish and Wildlife and US Customs Department.
Shop Here and Save. We Are Importers of Nyala Skulls - NO Middleman!
We Only Ship Within the US - Animal Skulls Cannot Be Exported.