Bones, Claws, Feet USPS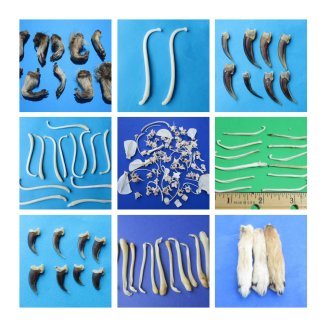 Small animal bones for crafts, animal claws for jewelry crafts and preserved and cured animal feet, paws for sale for taxidermy crafts. All can be shipped by cheap USPS Ground Advantage rates. Choose from raccoon bones, opossum bones, fox bones, mink bones and others. If you are making animal claw jewelry we carry badger claws, bobcat claws, coyote claws and more.
If you order other items, we will add the postage to your total shipping paid and refund the excess.