Mink Skulls - American Mink Skull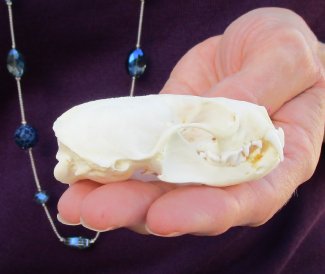 Real American Mink Skulls for Sale obtained from licensed trappers. These mink skulls have been cleaned and will measure between approximately 2-1/2 inches long and 3-1/8 inches long. The mouths have been glued shut at the jaw hinge; hot melt glue was used. These are Real Mink Skulls - NOT Replicas. They may have natural imperfections caused by living in the wild, fighting and aging. They may have a few missing teeth. American mink is a dark brown, semi-aquatic weasel prized for its luxurious fur. The mink has short legs, webbed toes, and a long skinny body that enable it to be an excellent swimmer. There is distinct sexual variation in the size of mink. Adult males weigh 2 to 3.5 pounds and measure 23 to 27 inches in length. Adult female mink are smaller than males and weigh 2 to 2.5 pounds and measure 18 to 22 inches in length. The fur of the mink is very thick and water repellent, with long, glossy hairs that are light to dark brown. There are usually some white markings on the chin and throat. Mink in South Dakota are darker in color than those in the southern part of North America where mink have lighter red fur.

Priority Mail (2 -3 day shipping) is CHEAPER, for Eastern and Central U.S. for packages weighing UNDER 3 lbs. Check rates for both UPS and USPS!
Can Only Be Shipped Within the US