Turbo Marmoratus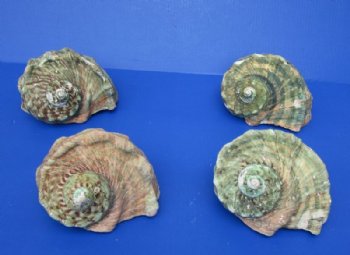 Large Turbo Marmoratus Seashells sold wholesale and individually, for seashell collectors and for coastal decor. Our Turbo Marmoratus shells, also called the great green turban,
measure between 5 inches and 6-1/2 inches in size. You can choose to buy our hand picked turbo marmoratus where you can buy the shell pictured or turbo marmoratus in bulk wholesale lots where we select the shells. Our turbo marmoratus seashells are all natural and beautiful and perfect for shell collectors and seaside decor.
Turbo marmoratus
, known as the
green turban
, the
marbled turban
or
great green turban
, is a large species of marine gastropod
with a thick calcareous operculum
in the family Turbinidae
, the turban snails.
The shells of these large sea snails have a very thick layer of nacre; this species has been commercially fished as a source of mother of pearl.
Our beautiful turbo marmaratus shells are Real - Not replicas
.
They have been cleaned but have NOT been polished.
These are
real
shells -
not replicas
.
Can Only Be Shipped Within the US

This website offers numerous wholesale priced products, but wholesale pricing is not available on all products. Our Wholesale Website is: www.atlanticcoral.com