Impala Horns (African)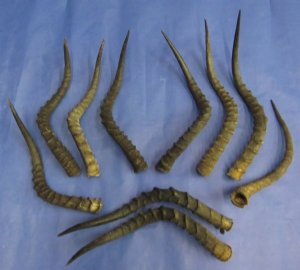 Real African Impala Horns for sale,
Aepyceros melampus
, come in sizes 16 inches up to 22 inches, measured around the curve. In addition to our first quality horns, we have #2 grade discounted horns with slight damage at bargain prices. Our impala horns are sold individually and in wholesale bulk lots The graceful lyre-shaped horns of the impala are used in making horn sculptures, lamps, inlaid furniture, cane handles and in many other taxidermy crafts.
Shop Here and Save!! All our Impala Horns are Priced Way Below Retail!!! We are importers of animal horns from Africa. -- NO MIDDLEMAN!!

We Ship Priority Mail (2 -3 day shipping) (NOT UPS) for Orders weighing UNDER 3 lbs.
Can Only Be Shipped Within the US