Spider Conch Shells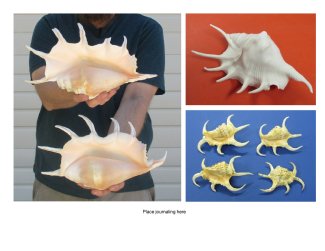 We carry a large assortment of Spider Conchs Shells including the scorpion spider conch that has a combination of rich purple and orange in the aperture; orange spider conch, which is the only spider conch with a bright orange opening. In addition we carry the Lambis Chiragra, and the Seba's Spider Conch, or Giant Spider Conch shells. Giant Spider Conch Shells,
Lambis truncata
, are the largest and heaviest of the spider shells. These shells are off white to orange in color with large finger like spines. Ours Giant Spider Conchs range in size from 10 inches up to 15 inches. We also offer for sale Giant Spider Shells where you can buy the shell pictured that has been hand selected out of our large inventory of spider conchs.
Shop Here and Save! All Our Spider Conchs Are Priced Way Below Retail. We Also Sell "Hand Picked" Large Giant Spider Shells for Shell Collectors and Decorators Where You Buy What You See - NO Surprises!