Small Animal Skulls USPS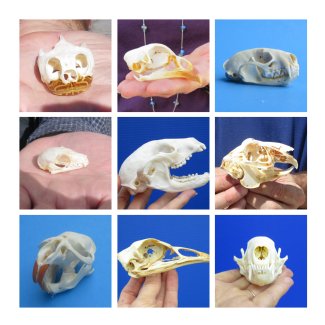 We offer a wide selection of hand selected and photographed small animal skulls under 3 inches in size for skull collector with low cost USPS Ground Advantage Shipping. Our tiny and small animal skulls for sale include, pheasant skulls, bat skulls, mink skull, gopher skulls, turtle skull, muskrat, chicken and turkey skulls. Choose slightly larger skulls of raccoon, bobcat, opossum, grey fox, red fox, American porcupine and otter. Our small animal skulls have been cleaned and whitened and are ready for display.
They are 100% Real -

Not Imitation

.
If you are short on space, choose one of our small animal skulls for display, painting or decorating.
If you buy other items, we will add the postage to your total shipping and refund the excess.