Nile Crocodile Skulls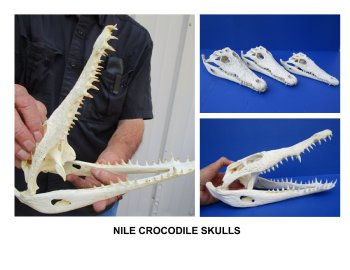 We stock Wholesale African Nile Crocodiles Skulls and individual hand selected and photographed Nile Crocodile Skulls available in sizes from 7 inches up to 14 inches, sourced from African crocodile farms. They range in price from $100 up to $500.00. They are 100% Real -
Not Replicas.
Our Nile Crocodile skulls have been cleaned and whitened and are ready for display. They have been cleared for legal entry into the US by the US Fish and Wildlife Service and US Customs under a CITES Permit. The
Nile crocodile
(
Crocodylus niloticus
) is a large crocodilian
native to freshwater
habitats in Africa, where it is present in 26 countries. It is widely distributed throughout sub-Saharan Arica
, occurring mostly in the central, eastern, and southern regions of the continent, and lives in different types of aquatic environments such as lakes, rivers, swamps
, and marshlands.
Present in west Africa, the niloticus is there cohabitant with two other crocodilians.
Although capable of living in saline environments, this species is rarely found in saltwater, but occasionally inhabits deltas
and brackish lakes.
On average, the adult male Nile crocodile is between 11.5 and 16.4 feet in length.
It is the largest freshwater predator in Africa, and may be considered the second-largest surviving reptile in the world.
This website offers numerous wholesale priced products, but wholesale pricing is not available on all products. Our Wholesale Website is: www.atlanticcoral.com