Other Animal Bones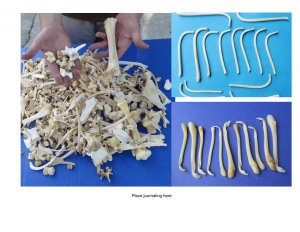 If you are looking for other types of animal bones such as tiny vertebrae bones or baculum or pecker bones for making bone jewelry, look no further. Check out our assortment of small leg bones and rib bones for carving or an assortment of animal bones, including tiny and small vertebrae, rib, toe, feet, leg, and other bones from raccoon, opossum, coyote and fox. These tiny and small animal bones for sale measure in size from 1/2 inch up to 8 inches. Additionally, we carry badger penile bones, coyote penis bones, fox baculum, mink baculum and raccoon pecker bones. Small animal bones are used in making jewelry, gag gifts and in other taxidermy crafts.
We Ship PRIORITY MAIL (2 - 3 day shipping) (
NOT UPS
) for Orders weighing UNDER 3 lbs.
Can Only Be Shipped Within the US