1st Class Shipping, Free Shipping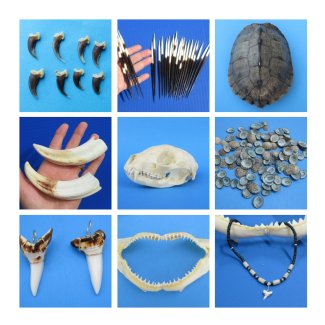 Get Free Shipping or First Class Mail shipping on numerous light weight items with a packaged weight under 13 ounces and priced under $25. 1st Class Mail is available on small animal skulls, shark's tooth necklaces, small shark's jaws, alligator teeth, small alligator heads, alligator tooth necklaces, warthog tusks, small turtle shells, lightweight seashells and starfish.
P
ackages must weigh under 13 ounces in order to quality for First Class Mail and be priced under $25.00.
1ST CLASS MAIL SHIPPING - ALLOW 5
TO 10 DAYS FROM DAY OF MAILING FOR RECEIPT. WE WILL APPLY THE
1ST CLASS MAIL
POSTAGE TO YOUR TOTAL SHIPPING PAID IF YOU ORDER OTHER ITEMS. WE REFUND EXCESS SHIPPING CHARGES.
Browse these categories under "1st Class Shipping, Free Shipping"