Wholesale Shark Teeth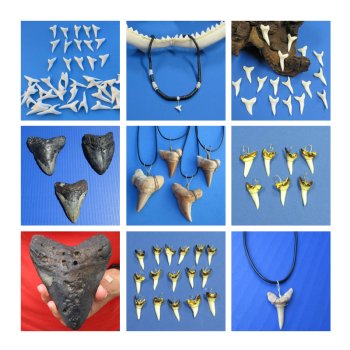 Sourced from Taiwan's fishing industry, we sell wholesale modern day shortfin mako shark teeth sold in bulk bags. You can choose from wholesale tiny 1/2 inch modern day shortfin mako teeth in bulk up to huge 2-1/4 inches modern day mako shark teeth for making shark tooth jewelry. We also carry wholesale shark tooth necklaces, 18 inches in length made out of coconut and clam shell beads with 1 inch shark tooth pendants and also fossil tooth necklaces strung on leather. If you are looking for fossil shark teeth, we carry 1 inch to 5 inches megalodon shark teeth, all without restoration. If your customers are asking for authentic mako shark tooth pendants, take a look at our decoratively burnt and wired pendants in sizes from 7/8 inch up to 2 inches.
All of our shark teeth are Real

-
NOT Replicas. The modern day shortfin Mako shark teeth are shiny white and are Very Sharp.
We Only Ship Within the US

This website offers numerous wholesale priced products, but wholesale pricing is not available on all products. Our Wholesale Website is: www.atlanticcoral.com