African Porcupine Quills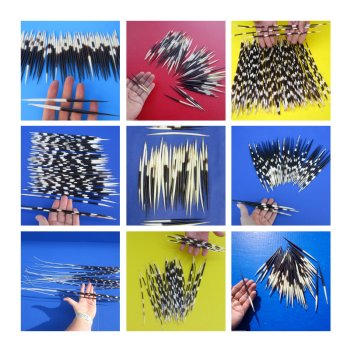 We stock Thin and Thick African Porcupine Quills from the African crested porcupine, the largest porcupine in the world. It lives in hilly, rocky habitats in sub-Saharan Africa, North Africa and Italy. Did you know that Quillwork is one of the oldest known forms of embroidery used by Native Americans? Utilizing Porcupine quills in artwork has been a tradition in Native American culture for generations, and with our wide variety of real porcupine quills you can keep that tradition alive. We offer quills ranging in size from 3 to 18 inches, thick quills, thin quills, and everything in between. They can be used for creating a large number of traditional pieces such as jewelry, traditional crafts and more. Thick porcupine quills have also been known to be used as hair sticks. Porcupine Quills are VERY SHARP! HANDLE WITH CARE!
We Ship Priority Mail (2 -3 day shipping) (NOT UPS) for packages weighing UNDER 3 lbs.

We Only Ship Within the US
Browse these categories under "African Porcupine Quills"