Taxidermy Animal, Reptile, Bird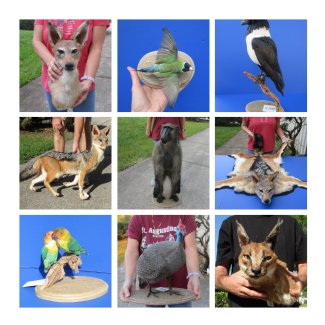 Bring a touch of Wild Africa into your home with one of our Animal Mounts, Reptile Mounts and Taxidermy Birds. Decorate with animal mounts of cape fox, cape hare, baboons, jackals, monkeys or one of our taxidermy birds. You can also choose one of our taxidermy birds mounted by a professional South African taxidermist. We offer beautiful rosy-checked lovebirds table mounts, parrot table mounts, red billed mounted ducks, mounted pigeons, parakeets and more. For taxidermy crafts, we also import mounted giraffe feet in sizes 19 inches up to 24 inches and mounted zebra foot in sizes 8 inches up to 13 inches high. Some of these taxidermy giraffe feet and zebra foot mounts stand alone and others need to be supported. They were imported from South Africa and cleared for legal entry into the US by the US Fish and Wildlife Department and US Customs. They are not endangered.

The word taxidermy describes the process of preserving the animal, but the word is also used to describe the end product, which are called taxidermy mounts, mounted animals or referred to simply as "taxidermy".
We Only Ship Within the US