Alligator, Crocodile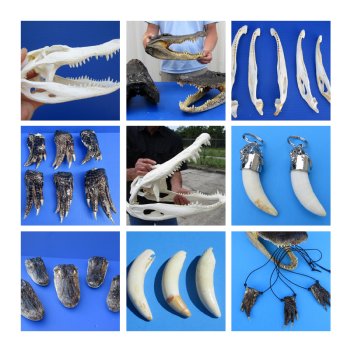 If you are looking for the highest quality, ethically sourced alligator products, then you have come to the right place. We offer the best of the best when it comes to alligator heads, skulls, feet, and more! Use our alligator products to create stunning décor pieces, jewelry, or more. Not only are our alligator heads perfect for creating, they are also wonderful to add real flare to any hunting lodge, fishing house, or lake home.
You can also choose from a wide variety of crafted alligator products including gator toe necklaces, key rings, and back scratchers. These make amazing conversational pieces and gifts for any gator enthusiast, hunter, or fisherman.

Alligator Products Cannot Be Exported.

This website offers numerous wholesale priced products, but wholesale pricing is not available on all products. Our Wholesale Website is: www.atlanticcoral.com
Browse these categories under "Alligator, Crocodile"