Alligator Heads, Gator Heads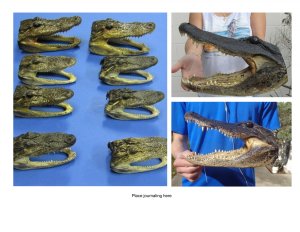 Buy One or Wholesale Alligator Heads, preserved, sealed and ready for display, starting at $6.00 each. We sell taxidermy alligator head souvenirs from 5 inches, up to 19 inches in size. We stock small and medium gator heads as follows: 4-7/8 to 6 inches heads from 3 footers; 6 to 7-3/4 inches heads from 4 footers; 8 inches head from 5 footers, 9 inches heads from 6 footers. We also carry large alligator heads measuring 14 inches thru 17 inches in size from gators up to 11 feet. These gator heads have been preserved, sealed, and the backs painted black. Alligator heads are the perfect unique souvenirs for gator fans and the collectors of the weird and unusual.
Alligator Heads Cannot Be Exported.

We Ship Priority Mail (2 -3 day shipping) (
NOT UPS
) for packages weighing UNDER 3 lbs.