Alligator Teeth, Necklaces, Knife, Key Chains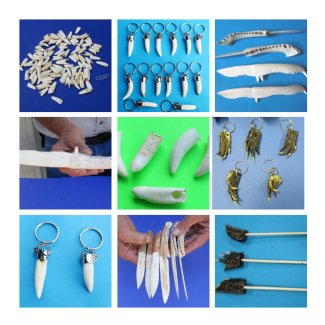 Did you know that an adult alligator has between 74 and 84 teeth in its mouth? We stock a wide assortment of Real Alligator Teeth for sale wholesale in bulk and in small quantities for making necklaces, bracelets and earrings. Sizes start from 1/2 inch up to 3-3/4 inches long. We also offer extra-large hand selected and photographed alligator teeth for those who want to see exactly what they will be buying. We also stock Alligator Tooth Keychains, Alligator Tooth Necklaces and Alligator Tooth Pendants. You will also find unique Alligator Foot Back Scratchers and Gator Bone Knives. If you are looking for unique real alligator gifts and party favors for that tailgating party or alligator themed birthday party, we have it. All of our alligator novelties are real - no replicas here.
Alligator novelties can only be shipped within the United States.
We Ship Priority Mail (2 -3 day shipping) (
NOT UPS
) for packages weighing UNDER 3 lbs.