American Bison Skulls, Buffalo Skulls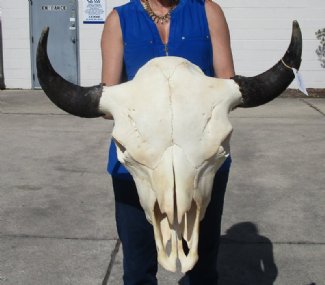 Wholesale North American Bison Skulls for Sale for $105.00 commonly known as American Buffalo Skulls, with horn spreads from 21 inches to 25 inches. For only $110 to $140, choose hand picked buffalo skulls with horn spreads up to 29 inches. Buy what you see in the photo. We also carry cheap buffalo skulls, all with some damage for bargain hunters. These skulls have not been whitened. All will have an odor and discoloration. There is a hole in the top of the skull and most have some missing teeth.
These skulls requires a very large box - UPS billed weight = 66 pounds (NO POST OFFICE SHIPPING)
These skulls can only be shipped within the United States. Cannot be exported.