Animal Hides, Skins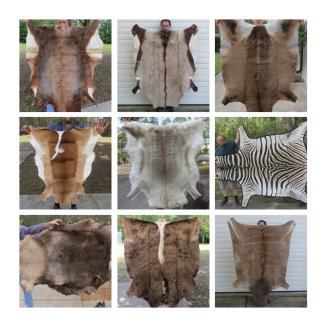 Add a touch of the wild with our soft tanned Real Animal Skins and Hides Wholesale for animal skin rugs, furniture throws and wall hangings, from blesbok skins with rich brown fur, African impala skins with beautiful reddish brown fur, to dark and light colored reindeer skins and hides with thick fur, soft tanned springbok skins, red hartebeest, black and blue wildebeest hides, gemsbok and kudu hides. Additionally we stock tanned skins and tanned hides of Scandinavian white-tailed deer, African nyala and burchelli zebra skins with felted backs. All of our skins and hides were professionally tanned in South Africa or Finland.
We Only Ship Within the US

This website offers numerous wholesale priced products, but wholesale pricing is not available on all products. Our Wholesale Website is: www.atlanticcoral.com
Browse these categories under "Animal Hides, Skins"