Animal Horns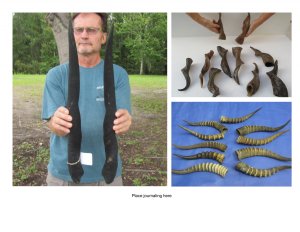 Our ethically and legally sourced animal horns wholesale and individually are the perfect addition to any log cabin, hunting camp, or even your rustic farm house. Animal horns not only make excellent décor pieces on their own, but they are also extremely versatile crafting mediums. Use them to create shofars, blowing horns, furniture or cane handles, in taxidermy, center pieces, wreaths, or even create a stunning animal horn lamp. We carry a wide array of horns sold wholesale and individually from Africa and India including Impala horns, blesbok horns, polished water buffalo horns, kudu horns, gemsbok horns, springbok horns, and sheep horns. Whether you are looking to create a beautiful chandelier or send your favorite hunter a unique gift, we have the animal horns to fit your needs.

Shop Here and Save! All our animal horns are sold Wholesale, in Small Lots or Individually. We are importers of animal horns from Africa and India -- NO MIDDLEMAN

We Only Ship Within the US -Animal Horns Cannot Be Exported.
Browse these categories under "Animal Horns"