Animal Skeletons, Preserved Bats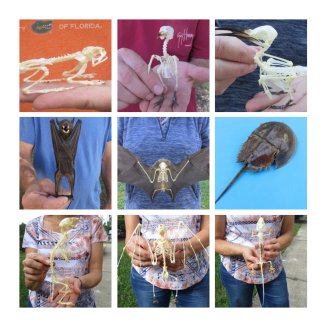 We sell all kinds of Real Animal Skeletons and Dried Molted Horseshoe Crabs. We have Bat Skeletons for Sale, Preserved Bats and Mummified Bats, including Asian Pond Frog Skeleton, Yellow Vented Bulbul Bird Skeleton, Fanged River Frog Skeleton, Sooty Headed Bulbul Bird Skeleton, Barred Buttonquail Bird Skeleton, Fruit Bat Skeletons in flying position with wings spread open and resting position with wings folded, Blue Tailed Bee Eater Bird Skeleton, Semi Skeletal Greater Short-Nose Fruit Bat and the Asian Black Spine Toad Skeleton. We also carry Dried Preserved Bats, including Preserved Painted Bats with Wings Spread Open, Preserved Painted Woolly Bats, Mummified Fruit Bats and Mummified Dried Diadem Leaf Nosed Bats All of our Animal Skeletons are extremely fragile and you may have to glue a bone or two back in place after you receive it. None of these species are endangered. They were all imported from Indonesia.
Priority Mail (2 -3 day shipping) is CHEAPER, for Eastern and Central U.S. for packages weighing UNDER 3 lbs. Check rates for both UPS and USPS!