Baboon Skulls - Chacma Baboon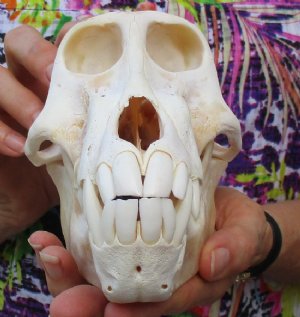 We are importers of Real Chacma Baboon Skulls for Sale, imported under a CITES Permit from South Africa. We sell first quality and discount Male Chacma Baboon Skulls, Female Baboon Skulls and Juvenile baboon skulls.
The
chacma baboon
(
Papio ursinus
), also known as the
Cape baboon
, is, like all other baboon
s
, from the Old World monkey
family. The Cape Baboon one of the largest of all monkeys.
Located primarily in southern Africa, the chacma baboon has a wide variety of social behaviors, including a dominance hierarchy, collective foraging, adoption of young by females, and friendship pairings.
Shop Here and Save! We Are Importers of Chacma Baboon Skulls from South Africa. Buy What You See -- NO Surprises!

We Ship Priority Mail (2 -3 day shipping) (NOT UPS) for Orders weighing UNDER 3 lbs.
Can Only Be Shipped Within the US
SKU: SKULLBABOON-MALE
Price: $275.00
Out of Stock