Bat Skulls for Sale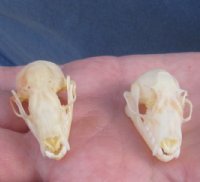 Fruit Bat Skulls for sale,
Rousettus Leschenaulti,
all hand picked so you can buy the bat skull you see in the photo
.
These small animal skulls measure under 2 inches in length. Fruit Bats vary in size and in weight and have the best overall vision of all bat species. These bat skulls were imported from Indonesia and have been professionally cleaned and are ready for display. Their jaws have been glued shut.
We Ship Priority Mail (2 -3 day shipping) (NOT UPS) for Eastern and Central U.S. for packages weighing UNDER 3 lbs.
Can Only Be Shipped Within The US