Beach Towels Wholesale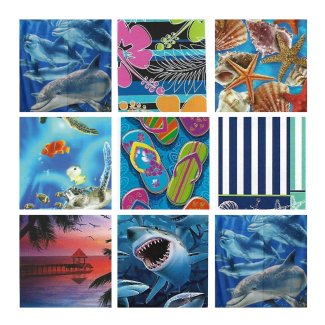 Beach Towels Wholesale and Bulk Pool Towels for your next pool party or beach party or for re-sale. Check out our selection of Wholesale Florida Beach Towels, Wholesale Beach Towels without name drops and 54 by 68 inches Extra Large Beach Towels/Blankets. We stock a wide assortment of colorful shark beach towels wholesale, dolphins beach towels wholesale, striped beach towels, tie dye beach towels, sea turtles beach towels, seashell beach towels, sunset beach towel, and wholesale beach towels with hibiscus, palm trees, watermelon, flip flops, colorful popsicles and pets. Our wholesale beach towels are made with fiber reactive dyes, which are textile dyes that form a covalent bond with the fibers. Towels colored with this type of dye will not bleed when washed or fade, unless exposed to bright light. Fiber reactive dyes are permanent and enable the towel to stay bright for years.
These towels weigh approximately 12 ounces each.
This website offers numerous wholesale priced products, but wholesale pricing is not available on all products. Our Wholesale Website is: www.atlanticcoral.com