Beach Towels in Bulk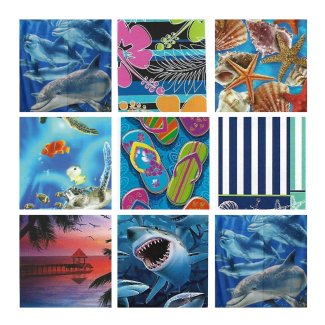 Bulk Beach Towels and Bulk Pool Towels sold in packs of 6
for your next pool party or beach party. We carry shark beach towels, dolphins beach towels, seashell beach towels, sunset beach towel, and hibiscus pool towels, striped cabana pool towels, plus pool and beach towels with palm trees, sea turtles and lots more. Our beach towels are made with fiber reactive dyes, which are textile dyes that form a covalent bond with the fibers. Towels colored with this type of dye will not bleed when washed or fade, unless exposed to bright light. Fiber reactive dyes are permanent and enable the towel to stay bright for years.
These towels weigh approximately 12 ounces each.
We Only Ship Within the US - Our Products Cannot Be Exported.