Blowing Horns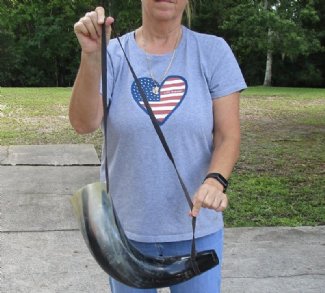 We stock a variety of sizes of Real Blowing Horns, also called Viking War Horns, each having a Leather Shoulder Strap and all are made out of a real water buffalo horn,
Bubalus bubali.
These Viking Blowing Horns made out of water buffalo horn, also called Viking War Horns, were imported from India and are available in 4 sizes: Small 12 to 13 inches; Medium 14 to 16 inches; Large 18 to 19 inches and Extra Large 20 to 23 inches, all measured along the curve of the horn.
The exterior of the horn has been polished; however, there will be rough sections on the horns.

They are made out of 100% Real Water Buffalo Horns - They are Not a Replica.

Buffalo Blowing Horns, or Viking War Horn, make a deep, rich sound when blown. They are blown like a trumpet or shofar, and come with a leather shoulder strap. In the Viking age, a sounding horn, or blowing horn were used to warn of danger or to announce victory. This blowing horn takes a bit of practice to use, but rewards those who are up to the challenge with the much deeper sound of a war horn. Today, that same horn is used to announce the beginning of every NFL Vikings football game. Complete your Viking artifact collection with your own Sounding horn so you can root for your team or announce your arrival in style.


This website offers numerous items wholesale, but wholesale pricing is not available on all items. Our Wholesale Website is: www.atlanticcoral.com