Buffalo Horns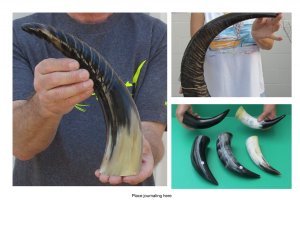 We have a wide selection of Indian water buffalo horns for sale,
Bubalus bubalis
, including polished buffalo horns, spiral carved horns, snake skin design, buffed, semi-polished and natural buffalo horns. The polished, buffed and carved come in a variety of colors that have a marbleized appearance. Some have blends of white, others are mostly black and still others have a mixture of darks and whites. No 2 are identical. These horns are used in home décor, making medieval drinking horns, medieval horn hats, knife handles, cane handles, in sculptures and in many other crafts. The horns range in size from 6 inches up to 45 inches, measured around the curve. Some stand on their own while others need support.
Shop Here and Save!! All our water buffalo horns are priced way below retail. We are importers of natural, carved and polished water buffalo horns from India. -- NO MIDDLEMAN!!

We Only Ship Within the US - Animal Horns Cannot Be Exported.
Browse these categories under "Buffalo Horns"