Camel Skulls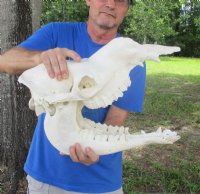 Real Camel Skulls for Sale, all hand picked and photographed, allowing you to see and buy the exact skull you want. These one-humped camels,
Camelus-dromedarius
, were ethically sourced from India. Camels are used for both milk and meat. We import these skulls from India and they have been cleaned and whitened in India. The skulls will range in size from 16 inches up to 19 inches. We sell both first quality skulls and #2 quality discount skulls, with slight damage, for the bargain shoppers.
Shop here and save! All our Camel Skulls are priced way below retail. We are importers of animal skulls from India. NO MIDDLEMAN!!

We Only Ship Within the US - Animal Skulls Cannot Be Exported.



WE ARE OUT OF CAMEL SKULLS



SKU: SKULLCAMEL
Price: $114.99
Out of Stock
More Details