Coyote Skulls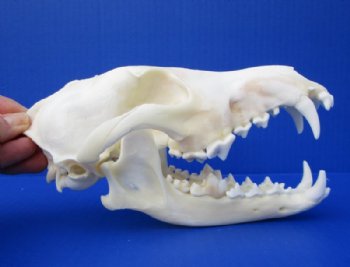 Buy one or Wholesale Coyote Skulls from North America,
Canis Latrans, et
hically sourced from licensed trappers in the United States.
Coyotes stand about 24 inches high and weigh between 20 and 50 pounds. They are an intelligent animal and are highly territorial, defending their territory, which can be 4 to 15 square miles. Coyotes have expanded their range and can now be found through the US and Canada. We have hand picked and photographed a selection of our nicest coyote skulls allowing you to buy the skull you want. The coyote skulls have been cleaned and range in size from 6 inches up to 8-1/2 inches. The jaws have been glued shut with hot melt glue. In addition to our first quality Coyote Skulls, we have a selection of number 2 grade discounted skulls, all with slight damage.
We Only Ship Within the US

This website offers numerous wholesale priced products, but wholesale pricing is not available on all products. Our Wholesale Website is: www.atlanticcoral.com