Decorated Ostrich Eggs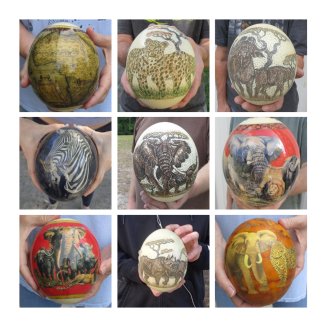 Decorated Ostrich Eggs for sale with scrimshaw art of African elephants, lions, cape buffalo, and rhino. We also have decoupage ostrich eggs that almost look painted with a high gloss finish and are decorated with the African Big 5, zebra, African map and more. All of the decorated ostrich eggs shown have been hand picked and photographed. You are buying the exact one pictured -- no surprises.
We Only Ship Within the US - Our Products Cannot Be Exported.