Deer Skulls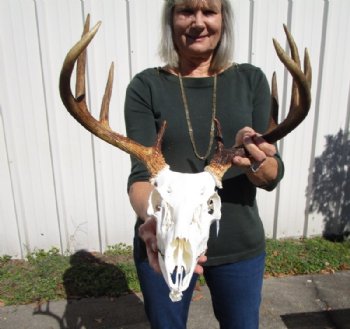 Real Whitetail Deer skulls for sale for skull collectors, skull painters and skull carvers. We sell whitetail doe deer skulls, whitetail buck deer skulls and Roe Deer Skulls. Our deer skulls have been cleaned, whitened and are ready for display. The jaws have been glued shut.
The
white-tailed deer
(
Odocoileus virginianus
), also known as the
whitetail
or
Virginia deer
, is a medium-sized deer
native to North America, Central America, Ecuador, and South America as far south as Peru and Bolivia.
In the Americas, it is the most widely distributed wild ungulate.
Texas is home to the most white-tailed deer of any U.S. state or Canadian province, with an estimated population of over four million.

All our deer skulls are Rea

l -
NOT Replicas.
They will have natural imperfections.
Can Only Be Shipped Within the US

This website offers numerous wholesale priced products, but wholesale pricing is not available on all products. Our Wholesale Website is: www.atlanticcoral.com