Dried Porcupine Blowfish - 1st Class Mail Shipping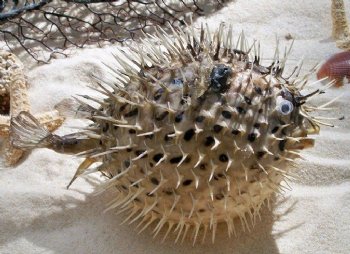 Dried porcupine blowfish for sale from 6 inches up to 9 inches, shipped first class mail.
They have fake wiggly eyes and a seam that runs the length of their body where the meat was removed.
They are also also known as balloonfish or globefish. Porcupine fish have heavy spines over their entire body. They inflate their body to increase their size as a defense mechanism.
SKU: BF900-6 (1st Class Mail)
Price: $15.95
SKU: BF901-8(Free 1st Class Mail Shipping)
Price: $16.99