Dried Sea Fan Coral - Red Sea Fan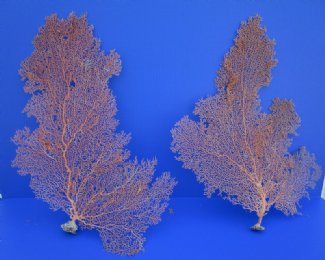 Sun dried red sea fan coral for sale is available in sizes from 7 inches up to 21 inches. The large sea fan corals are sold in packs of 2 and the small sea fan is sold in pack of 5. Buy what you see in the photo.
Sea fan
, (genus
Gorgonia
), any member of a genus of invertebrate
marine animals of the suborder Holaxonia
.
Sea fans are found in the shallow waters of all oceans
, but they are especially abundant along the Atlantic coasts of Florida, Bermuda, and the West Indies
.
It is a variety of coral
composed of numerous polyps
that grow together in a flat fanlike pattern.
The corals are often colored in hues of red, yellow, or orange.
In most cases the fan-shaped colonies grow across the current, which increases their ability to ensnare prey.