Dried Starfish - Natural and White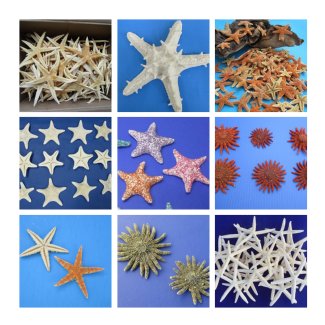 We offer Wholesale Starfish for Sale by the case and small quantities of natural starfish and white starfish. Perfect for starfish crafts, we carry 2 , 3, 4 and 6 inches White Pencil/Finger Starfish in bulk; 4 inches and 6 inches White Jungle Starfish, 1 inch to 8 inches White Knobby Starfish in bulk, 2 to 4 inches Sugar Starfish by the bag, 1 to 2 inches and 2 to 3 inches dried knobby starfish in bag lots and case lots and 2 to 6 inches Dyed Blue Starfish. All of these starfish have been sun dried and have not been chemically sealed or treated. They are sold in bulk bags of 12 pieces to 100 pieces and some are available in wholesale cases at low discount prices. Great for sharing with fellow crafters.
We Ship Priority Mail (2 -3 day shipping) (NOT UPS) for packages weighing UNDER 3 lbs.

We Only Ship Within the US

We Have Three 40 foot Containers On the Water Filled with Seashells, Jewelry, Starfish, Sea Urchins, Shell Chimes, Shell Novelties. Upon Arrival We Will Be Marking Hundreds of Items Back in Stock.