Fossil Whale Vertebrae Bones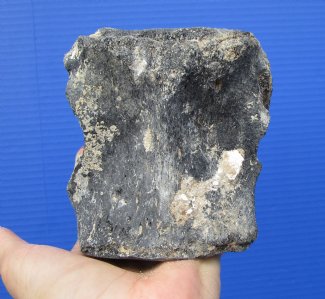 Prehistoric fossilized whale vertebrae bone for sale come in a variety of shapes. They range in size from 4 inches up to 9 inches. Our fossil whale vertebrae were sourced from suba divers off the Coast of the Carolinas in the United States

.

Hundreds of fossils species can be found in North Carolina's coastal plain, the eastern third of the state from Interstate 95 to the coast. These fossils range in age from 10,000 years old (Pleistocene Epoch) to more than 600 million years old (Eocambrian Period).

You also can find fossils in gravel and marl pits throughout eastern North Carolina. Pender County has several marl pits famous for the fossils. These pits contain many types fish and whale teeth of from the Eocene period 38 million to 54 million years ago.

The most famous fossil site in North Carolina is a huge marl pit near Aurora in Beaufort County, which includes large mammal bone such as whale vertebra.