Fox Skulls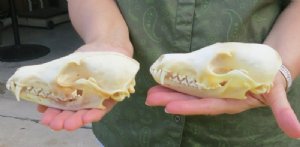 Real Red Fox Skulls for Sale, with skulls measuring between 5 and 6 inches long. We also carry African Cape Fox Skulls between 4-1/4 and 5 inches long.
The Red Fox is the largest of the foxes and is present across the entire Northern Hemisphere. It has an elongated body with relatively short limbs. It feeds mostly on small rodents but will target rabbits, game birds, reptiles and other small animals. Our red fox skulls were obtained from US licensed trappers.
The
Cape fox
(
Vulpes chama
), also called the
asse
,
cama fox
or the
silver-backed fox
, is a small
fox
, native to southern Africa. It is also called a South African version of a fennec fox
due to their big ears.
It has black or silver gray
fur
with flanks and underside in light yellow. The tip of its tail is always black.
Cape foxes
will eat plants or animals. Although they prefer invertebrates and small mammals such as rodents
, they are opportunists and known to hunt and eat reptiles
, rabbits, spiders, birds, and young hares. They will also eat eggs, beetle larvae, and carrion, as well as most insects or fruits. Cape foxes have been reported to be able to kill lambs up to three months of age, although this is a rare occurrence

Priority Mail (2 -3 day shipping) is CHEAPER, for Eastern and Central U.S. for packages weighing UNDER 3 lbs. Check rates for both UPS and USPS!
Can Only Be Shipped Within the US