Home Decor, Horn Mugs and Gifts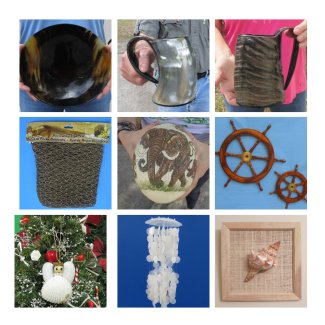 Are you looking for natural unique gifts at affordable prices? We have a large selection of horn mugs in full rustic design and in polished design, plus buffalo horn bowls, glasses and trays. If you love the ocean, we have a huge selection of seashell, shark tooth and gator tooth necklaces, seashell ornaments to decorate your beach Christmas tree and seashell wind chimes for your patio or pool deck plus shell wall decor. For those who admire scrimshaw art, check out our scrimshaw ostrich eggs with African Elephants, African Rhino, Buffalo, Leopard and more. We offer both hand picked and photographed gifts allowing you to see exactly what you are buying, and gifts where we select one for you.
We Only Ship Within the US - Our Products Cannot Be Exported.
Browse these categories under "Home Decor, Horn Mugs and Gifts"