Horn Mugs, Cups, Glasses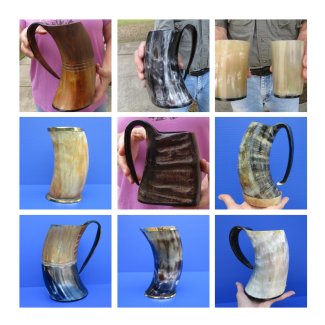 We stock authentic Cow Horn Mugs and Indian Cattle Horn Mugs and sell them Wholesale and Individually imported from India. Our Horn Beer Tankards are available in sizes 5 inches up to 9 inches. Also available are 4, 5 and 6 inches Cow Horn and Cattle Horn Cups and Horn Shot Glasses 3 inches tall. We carry full rustic viking horn mugs, semi polished horn mugs, full polished and half rustic horn mugs for beer, half polished horn mugs.
DO NOT fill with hot food or beverages - the surface will be damaged. This is a natural product
- Hand Wash - NOT Dishwasher Safe!
We offer hand picked and photographed horn mugs, trays and bowls allowing you to select the exact one you want -- no surprises!
We Only Ship Within the US




This website offers numerous items wholesale, but wholesale pricing is not available for all items. Our Wholesale Website is: www.atlanticcoral.com