Impala Skins and Hides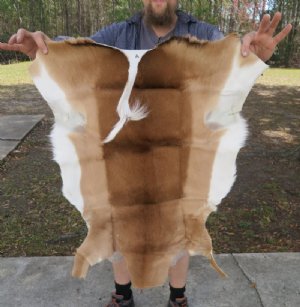 Our African Impala Skins and Hides sold wholesale and individually come in a variety of sizes. These attractive skins are a rich reddish brown color with white borders. Our impala skins are real and will have small imperfections from the animal living in the wild such as scratch marks, tiny holes, repair stitching, or sections of thinning fur. The backs of our African impala skins, hides will have patches where repairs have been made. These beautiful impala skins are perfect for use as a throw rug, couch accent throw or wall hanging. They are also used to make pillows, handbags, seat covers and in other taxidermy crafts.
Shop Here and Save! We Are Importers of Impala Skins and Hides from South Africa -- NO MIDDLEMAN!!

We Only Ship Within the US - Animal Skins and Hides Cannot Be Exported.