Impala Skulls and Horns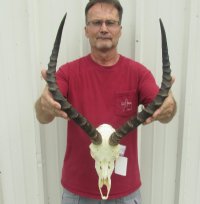 Authentic African Impala Skulls and Horns for Sale,
Aeryceros melampus
, hand picked and photographed allowing you to see exactly what you are buying. If you are crafty, you can always turn the skull into a European mount for that special place on your wall. The horns will range in size from 18 to 23 inches, measured around the curve of the horn, using a cloth tape measure. Also available are #2 grade discounted Impala Skulls with slight damage.
These skulls can only be shipped within the United States. Cannot be exported.