Natural Cow and Buffalo Horns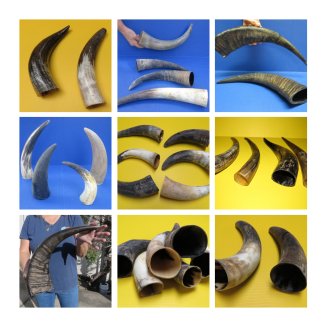 Wholesale Natural and Raw Cow and Water Buffalo Horns for Sale sold individually and in wholesale lots, in sizes from 10 inches to 29 inches. Choose from Natural Cow Horns, Buffed Cow Horns and Semi-Polished Water Buffalo Horns,
Bubalus bubalis.
These horns are measured around the curve of the horn using a cloth tape measure. Some horns have a tiny drilled hole near the tip area, done to release the pressure so the inner bone could be removed. These horns were imported from India and cleared for legal entry into the US by the US Fish and Wildlife Department and US Customs.
This website offers numerous wholesale priced products, but wholesale pricing is not available on all products. Our Wholesale Website is: www.atlanticcoral.com