Natural Kudu Horns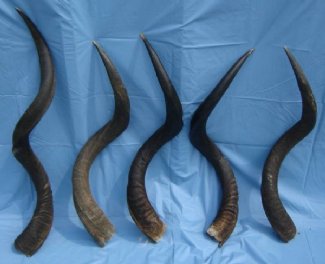 We offer for sale Natural Kudu Horns Wholesale in bulk lots and also sell individual kudu horns from the African Greater Kudu,
Tragelaphus strepsiceros.
Shop our large inventory
of
small kudu horns measuring between 15 and 24 inches, medium kudu horns, 25 to 39 inches and large kudu horns from 40 to 44 inches. Our kudu horns are Real -
Not Replicas
.
They will have natural imperfections from the animal living in the wild, fighting and aging. These have been cleared for legal entry into the US by the US Fish and Wildlife Service and US Customs.

This website offers numerous wholesale priced products, but wholesale pricing is not available on all products. Our Wholesale Website is: www.atlanticcoral.com